Article originally posted on www.insuranceneighbor.com

(opens in new tab)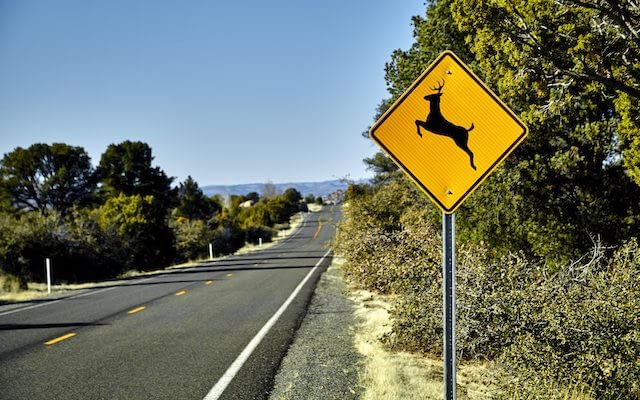 In a majority of cases, hitting an animal while driving is unavoidable. As upsetting as this event can be, it is also capable of causing substantial damage to your vehicle, particularly if the animal is large. Deer-related accidents are common in rural areas, with the average repair from these accidents exceeding $3,300.
We recommend that our clients review their auto insurance policy with one of our local agents so that the policy covers the eventuality of striking an animal on the road. Our agents can recommend the right type and level of auto insurance coverage to protect your vehicle.
What Does Comprehensive Car Insurance Cover?
Your auto insurance will cover these types of accidents under your comprehensive coverage limits rather than your collision coverage. Comprehensive car insurance covers all damage to vehicles not related to an actual collision with another vehicle. Some perils covered by this section of your auto insurance policy are:
Fire
Theft
Vandalism
Riot
Hail
Falling objects
Contact with birds or animals
Flood
Earthquake & wind damage
Comprehensive car insurance covers damages, minus the deductible, for animal-related causes. Typically, a single claim based on hitting a deer or other animal will not result in an increase of rates. We can help ensure you have adequate coverage to protect against a collision with a deer or another large animal while driving.
What To Do if You Hit an Animal
If you are involved in an animal-related accident, pull over and check to ensure that you and any passengers have not sustained any injuries. If the animal is alive, be cautious as it is likely terrified and could become dangerous. Report the accident to the police immediately. In many jurisdictions, hitting a domestic animal requires that police are notified.
Document the damage to the vehicle with photos. Be sure to get any witnesses to provide their contact information. Assess the condition of your vehicle to ensure it is safe to drive and if you are uncertain, have it towed. Call your auto insurance company to report the accident to file a damage claim. One of our agents will be happy to guide you if you need any help with this process.
Comprehensive Coverage Limitations
Should you file a claim, your policy will pay up to the maximum limit on your auto insurance policy. Hitting a deer or large animal often results in thousands of dollars in damages. A review of your policy limits with one of our agents will give you peace of mind that you have sufficient coverage to protect you if you are involved in an animal-related accident.
Arrange a Policy Review
If you don't currently have comprehensive car insurance, one of our agents will be happy to review your policy coverages and find you the best auto insurance coverage to provide the protection you need. We know how unsettling it is to be involved in any type of accident, whether it is related to hitting an animal or another vehicle. Our job is to ensure that our clients have the coverage they need, and at the most affordable rates.
Filed Under: Personal Insurance
|
Tagged With: Auto Insurance, Car Insurance